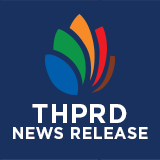 March 3, 2022: Jared Isaksen has been selected as THPRD's Finance Services Director/ Chief Financial Officer. As CFO, Jared will lead the district's Finance Services team, overseeing a staff of 10.5 staff, responsible for directing the district's fiscal operations as well as budget and accounting functions.
Jared has previously served as the Assistant Finance Director at the City of Tigard, a Finance Manager for Salem Area Mass Transit District, and a Senior Accountant at Merina & Company, LLP CPAS & Consultants.
"Jared has built an impressive career specializing in government finance, but it is his passion for public service combined with his collaborative empathetic leadership style that really sets him apart," said Doug Menke, General Manager. "It is clear from his 14+ years in local government finance, Jared understands how to work across agencies in a collaborative way to find solutions and build consensus to improve services."
Jared is a graduate of Portland State University with a Bachelor's of Science in Business Administration with an emphasis in accounting. In addition to his public finance background, Jared and his wife, Kristi, are raising five children. Jared is an avid wood worker and volunteers for youth activities with his children. Jared's first day at THPRD will be March 28, 2022.
About THPRD
Formed in 1955, THPRD is the largest special park district in Oregon, spanning 50 square miles and serving about 250,000 residents in the greater Beaverton area. The district provides year-round recreational opportunities for people of all ages and abilities. Offerings include thousands of widely diverse classes, 95 park sites with active recreational amenities, nearly 70 miles of trails, eight swim centers, six recreation centers, and about 1,500 acres of natural areas. For more information, visit www.thprd.org or call 503-645-6433.
###
Contact:
Holly Thompson
Communications Director
503.614.1218 (direct)
Date: March 3, 2022
FOR IMMEDIATE RELEASE
Click here for official release (PDF).