THPRD Hosts a Virtual Job Fair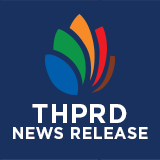 Looking for your next summer adventure? Do you want a job that is active and allows you to spend time outdoors? Look to THPRD, we need to hire dozens of people who are interested in public service and share our values around diversity, equity, and inclusion. We are hosting a Job Fair and hope you will join us to learn about job openings.
Virtual Job Fair:
Join THPRD staff at bit.ly/THPRDVirtualJobFair for a Virtual Job Fair, Wednesday, May 19 from 3 – 6 pm, and meet with hiring managers. Learn more about available jobs, typical schedules, responsibilities, opportunities, and more!
Openings Include:
Summer camp staff

Available positions: directors, assistant directors, camp leaders, camp assistant leaders, Rec Mobile leaders, and more.
We're seeking team-oriented, creative, and enthusiastic individuals to create quality summer camp experiences for kids.

Instructors

Available positions: sports, fitness, aquatics, tennis, dance, gymnastics, arts & crafts, & more.
We're seeking community & safety-oriented individuals who desire to share their passion for leading and instructing classes with a wide range of people. Instructors are responsible for planning, instructing, and leading.

Park maintenance

We're seeking motivated, friendly individuals who take pride in their work, and enjoy working outdoors.

Custodians

We're looking for people to help us keep facilities looking top notch and safe for our community.

Inclusion Assistants

We need people to help provide on-site assistance for participants of all ages with physical, developmental or emotional disabilities as they integrate into summer programs.
To learn more about any of these job opportunities, please visit our website at https://www.governmentjobs.com/careers/thprd.

About THPRD
Formed in 1955, THPRD is the largest special park district in Oregon, spanning 50 square miles and serving about 250,000 residents in the greater Beaverton area. The district provides year-round recreational opportunities for people of all ages and abilities. Offerings include thousands of widely diverse classes, 95 park sites with active recreational amenities, nearly 70 miles of trails, eight swim centers, six recreation centers, and about 1,500 acres of natural areas. For more information, visit www.thprd.org or call 503-645-6433.
###
Contact:
Holly Thompson
Communications Director
971-297-8178 (direct)
Date: May 4, 2021
FOR IMMEDIATE RELEASE
Click here for official release (PDF).