THPRD Honored with Partner in Public Health Award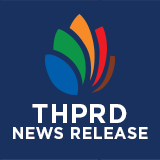 The Tualatin Hills Park & Recreation District (THPRD) was honored today by the Washington County Department of Health and Human Services with the Partner in Public Health Award.
The award recognizes an organization or business that has developed innovative public health programs that positively affect the community. THPRD was honored for its Access for All work, in partnership with the Tualatin Hills Park Foundation, that has worked collaboratively to expand programs and services for people experiencing disabilities.
THPRD's Inclusion Efforts include:
Mountain View Champions Park – a 21.5 acre community park in Aloha, designed specifically for people experiencing disabilities. With $1.5 million in capital support from the Foundation, the park offers an inclusive play area and the first sports field in the state for athletes of all abilities.
Adaptive Aquatics – The district served 2,000 people experiencing disabilities last year through tailored swimming programs.
Therapeutic and Inclusive Recreation - THPRD offers several options throughout the week for therapeutic recreation. Staff in the Inclusion Services team are available to assist class participants with all THPRD offerings. Staff provided more than 7,600 hours of service last year.
Camp Rivendale – THPRD operates a specialized summer camp for children and young adults who have physical, emotional, and/or developmental disabilities.
Tri4Youth – THPRD partners with FACTOregon to host an event for people of all abilities.
Specialized Classes and Programs – Throughout the year THPRD offers special recreational opportunities and events such as a quiet egg hunt for youth experiencing autism.
"We are honored to be receiving this award," said Ali Kavianian, THPRD's Board President. "To us, Access for All means that no matter what, everyone has the opportunity to enjoy all THPRD has to offer. This award is a credit to our amazing staff and volunteers who do so much to serve people experiencing disabilities."
To learn more about THPRD's Inclusion Services Program, visit thprd.org.
About THPRD
Formed in 1955, THPRD is the largest special park district in Oregon, spanning 50 square miles and serving about 250,000 residents in the greater Beaverton area. The district provides year-round recreational opportunities for people of all ages and abilities. Offerings include thousands of widely diverse classes, 95 park sites with active recreational amenities, nearly 70 miles of trails, eight swim centers, six recreation centers, and about 1,500 acres of natural areas. For more information, visit www.thprd.org or call 503-645-6433.
###
Contact:
Holly Thompson
Communications Director
503.614.1218 (direct)
Date: April 2, 2019
FOR IMMEDIATE RELEASE
Click here for official release (PDF).