Developer grading soil on THPRD property at SW 175th and Barrows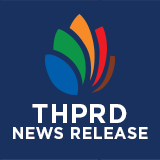 Housing developer The New Home Company recently acquired a neighborhood development known as The Vineyard in South Cooper Mountain. This property is on the west side of SW 175th Avenue across from SW Alvord Lane and just north of a future THPRD park at SW 175th Avenue and Barrows Road. The Vineyard's initial development will include extending SW Barrow Road to the west and adding a public water quality facility along one side of THPRD's future park property. In exchange for developing the water quality facility on THPRD's property, The New Home Company has donated a natural area to THPRD and more park land for THPRD's future park. As part of the agreement, the developer is currently grading the soil and seeding grass on the property. THPRD anticipates beginning the community engagement to design the future park in 2025 with construction planned for 2028.
To learn more about how THPRD is partnering with developers to bring parks to this area, visit the South Cooper Mountain project webpage.
For more information about how THPRD works with housing developers on park development, see our frequently asked questions on our Projects in Progress webpage.