Construction Update on Multi-Purpose Sport Court at Mountain View Champions Park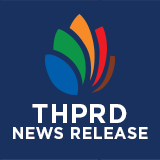 THPRD is continuing to move toward construction on the new multi-purpose sport court at Mountain View Champions Park. At this time, however, the construction timeline is temporarily paused until a construction bid from contractors has been awarded for the project. Currently, construction of the new sport court improvements is anticipated to begin in fall 2023.
To learn more about the future sport court and sign up for project updates, visit the Mountain View Champions Park webpage and click on the 'Improvements' tab.
--
Actualización de la Construcción en la Cancha Deportiva Multiuso del Mountain View Champions Park
THPRD sigue avanzando en la construcción de una nueva cancha deportiva multiuso en el Mountain View Champions Park. En este momento, sin embargo, el calendario de la obra está detenido temporalmente hasta que se adjudique la licitación a los contratistas del proyecto. Actualmente, se prevé que la construcción de las mejoras de la nueva cancha deportiva comenzará en el otoño de 2023.
Para obtener más información sobre la cancha deportiva futura y registrarse para ver las actualizaciones del proyecto, visite la página web de Mountain View Champions Park y haga clic en la pestaña 'Improvements' (Mejoras).