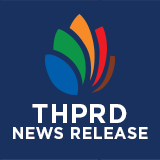 Free event!
Join THPRD for a Bark Day Pawty at Garden Home Park on Sunday, October 8 with fun activities for people and pups of all ages, including free giveaways. This event is also an opportunity to enjoy a temporary pop-up dog run. Walk, bike, or roll to this event with your furry friend any time between 9:00-11:30am. Parking in the area is limited.
In the meantime, don't wait until the event to bring your pup to the pop-up dog run. The temporary dog-run will be ready for visitors as early as September 29 and in the park through mid-October. It's an opportunity for the community to temporarily experience a dog run at the park and share input.
To learn more about the possibility of adding a dog run at Garden Home Park, visit the Garden Home Park webpage and click on the 'Improvements' tab.