THPRD renews holiday giving drive for children and families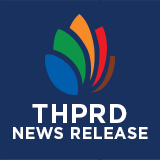 Tualatin Hills Park & Recreation District employees will once again work to create a brighter holiday season for low-income children and families in the Beaverton area.
THPRD will collect toys, clothing and other items for selected families within its boundaries. The park district will also collect food for the Oregon Food Bank. The public is invited to join employees and support both efforts at THPRD facilities throughout the Beaverton area.
Donations of non-perishable food will be accepted from Nov. 25 to Dec. 18 for the Oregon Food Bank-Washington County, located in Beaverton. As an incentive, THPRD will waive admission to any of its drop-in programs at participating recreation and aquatic centers during the three days after Thanksgiving (Nov. 27-29) with a donation of two non-perishable food items.
Examples of drop-in activities include open swim, lap swim, family swim, pickup basketball and volleyball, indoor track, cardio rooms, and weight rooms.
Starting Dec. 2 and running through Dec. 18, each THPRD center and administrative facility will have a giving tree, wreath or garland with "wishing stars" that specify a variety of wish list items.
Donors will be able to take a wishing star and return with a new, unwrapped gift. All gifts are to be distributed to families that have been identified by the Beaverton School District.
"Many of our neighbors are hurting, and that pain just becomes more acute during the holiday season," said Doug Menke, THPRD general manager. "We encourage everyone with the ability to give to make this time a little brighter for those in need."
Donations will be accepted at the following park district locations:
Notes:
* No drop-in programs are offered at the Tualatin Hills Nature Center, THPRD Administration Office or Fanno Creek Service Center.
* Drop-in fee waiver is not available at the Tualatin Hills Tennis Center.
* Due to construction, Harman Swim Center's participation in this effort will be limited to a food barrel from Nov. 25 through Dec. 4.
About THPRD
Celebrating its 60th anniversary in 2015, THPRD is the largest special park district in Oregon, spanning about 50 square miles and serving 230,000 residents in the greater Beaverton area. The district provides year-round recreational opportunities for people of all ages and abilities. Offerings include thousands of widely diverse classes, more than 90 park sites with active recreational amenities, 60 miles of trails, eight swim centers, six recreation centers, and 1,400 acres of natural areas. For more information, visit www.thprd.org or call 503-645-6433.
###
Contact:
Bob Wayt
Director – Communications
503/614-1218 (direct)
503/686-5134 (cell)
Date: November 18, 2015
FOR IMMEDIATE RELEASE
Click here for official release (PDF).